Die Robot - technopunk
Die Robot is an American Alternative Rock, Electro-Industrial band. This is future rock in a post-industrial age. Their sound straddles rock and electronic with a wide appeal. Unique, haunting, and romantic, Die Robot is full of angst and soul with the groove of a predatory animal.

Vince Christian provides powerful vocals and a fierce performance. Barbie Saint's strings are deep and passionate, combining not only bass and guitar, but synthesized leads simultaneously, a unique sound accomplished with special custom gear designed for Barbie by RMLfx. Sean Learn's electronic drums and keys fill the dance floor, and Rosmic Z's guitars accentuate an engaging performance, producing and intense electronic plus analog soundscapes.

Their name came about while watching the first Alien film. Bassist Barbie Saint shrieked "Die Robot!" as Ripley fought Ash the Android, and there they had it. "The four piece is techno punk; Colorful, energetic, a little bit sci-fi and a little bit Mad Max. Post-apocalyptic entertainment you can dance to"

Their New Album "Fanatics" will be release very soon. Two singles from it, "Fanatic" and "Talk City" are now available on all digital platforms plus dozens of live videos are out on their official YouTube channel. 

Having released their debut full length album "Technopunk" in 2018  Die Robot has toured around the US with incredible turn outs, and performed with artists like Stabbing Westward, Clan of Xymox, The 69 Eyes, The Birthday Massacre, Orgy, Kontravoid, Conjure One (Front Line Assembly, Delerium), Unter Null, God Module, 16volt, Vince Clarke (Erasure), David J (Bauhaus) John 5 (Rob Zombie), Julien-K, Night Club, Kite, among many others. They are claiming a spot as one of the elite bands in the Electronic Industrial Rock circuit.

In 2019 Die Robot released "Technopunk Remix'd" a collection of new mixes and remixes of Die Robot's album "Technopunk" From hard beat dance techno to symphonic sexy remixes.
All songs Written by Vince Christian and Barbie Saint with remixes by, Antonym, Damascus Knives, Nando, Pyrolizr, Empath of the Empire, Fractured Machines, Neon Distortion, Black Agent, Omniphex, Synth Witch, RMLfx, Particle Son, Diverje and Killer Couture. This has some excellent stompy and clubby remixes that are playing very well at the clubs with some club hits like 10.000 Years Dance til you Die Remix and Virtual Life Antonym Remix among others.

In 2020 the year of the apocalypse, Die Robot played a sold out show at Science Museum Planetarium OMSI, to then go on lockdown for the whole year, just like any other band in the world. Postponing 10 shows and 4 festivals, they released the single "Fanatic" and a series of song remixes videos. They also participated in a few virtual festivals and live streams, including Mechanismus Fest and Blackpool Festival in the UK.

In 2021 with the world starting to go back to normal, Die Robot released the single "Talk City"
Talk City was written with lyrics addressing the spread of misinformation and the resulting distrust that pervades modern society. The song has a very clear message. That is one should not believe everything they read or hear in the media,  but rather, research and find the truth.

During the fall of 2021, Die Robot went on tour with DK-Zero, playing some shows in various west coast cities and in 2022 Die Robot played many festivals and shows around the US including Dark Side of the Con, Mechanismus Fest and Absolution Fest. Their New album "Fanatics" will be coming out very soon!
 
Upcoming Shows March 2023 
03/04 - Seattle Central Saloon
03/11 - Salem Christo's Lounge
03/24 - PDX Coffin Club
03/30 - NYC
03/31 - 04/02 - New Jersey: Dark Force Fest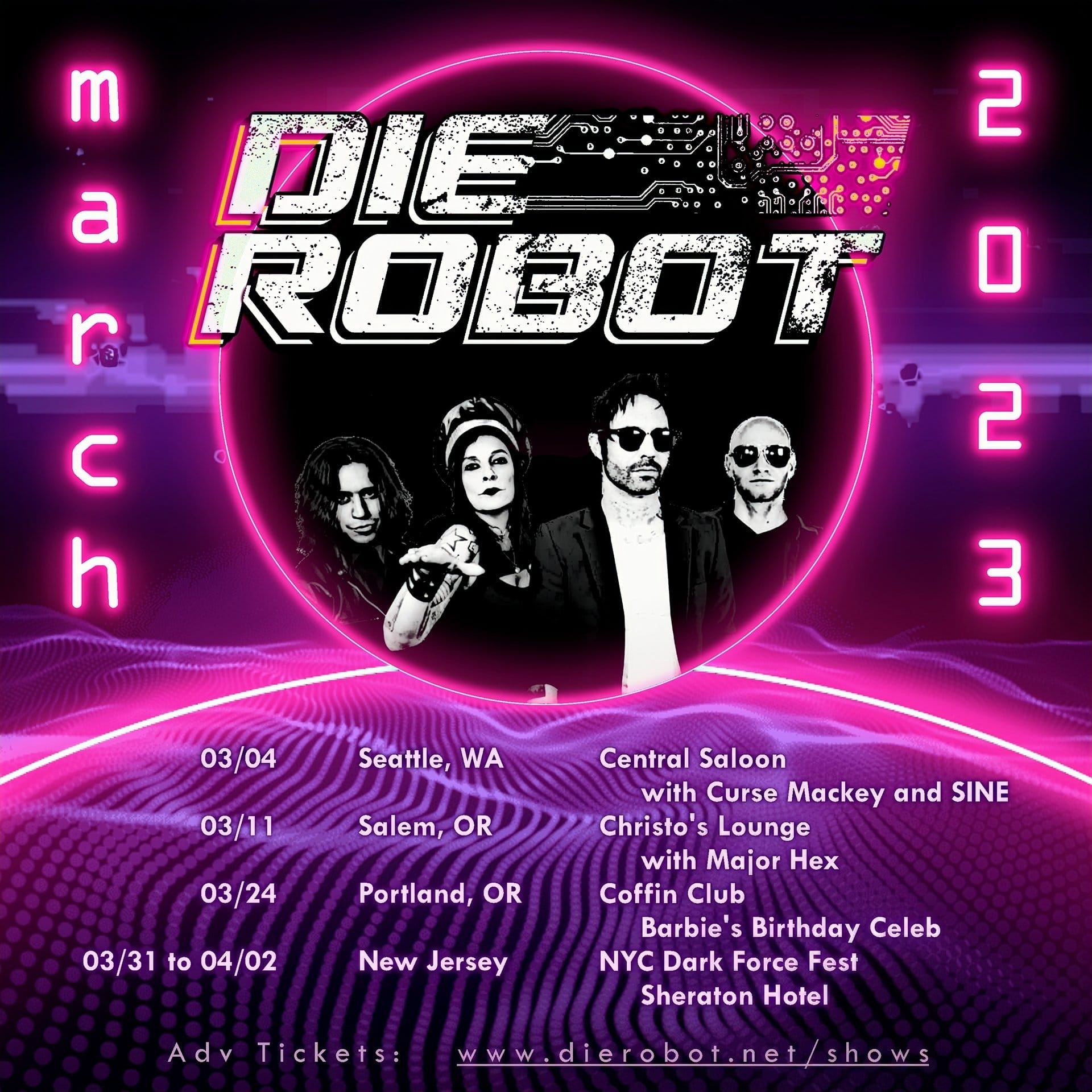 NEW SINGLES FANATIC AND TALK CITY OUT NOW ON ALL MSP! 
New Album "Fanatics" coming out soon!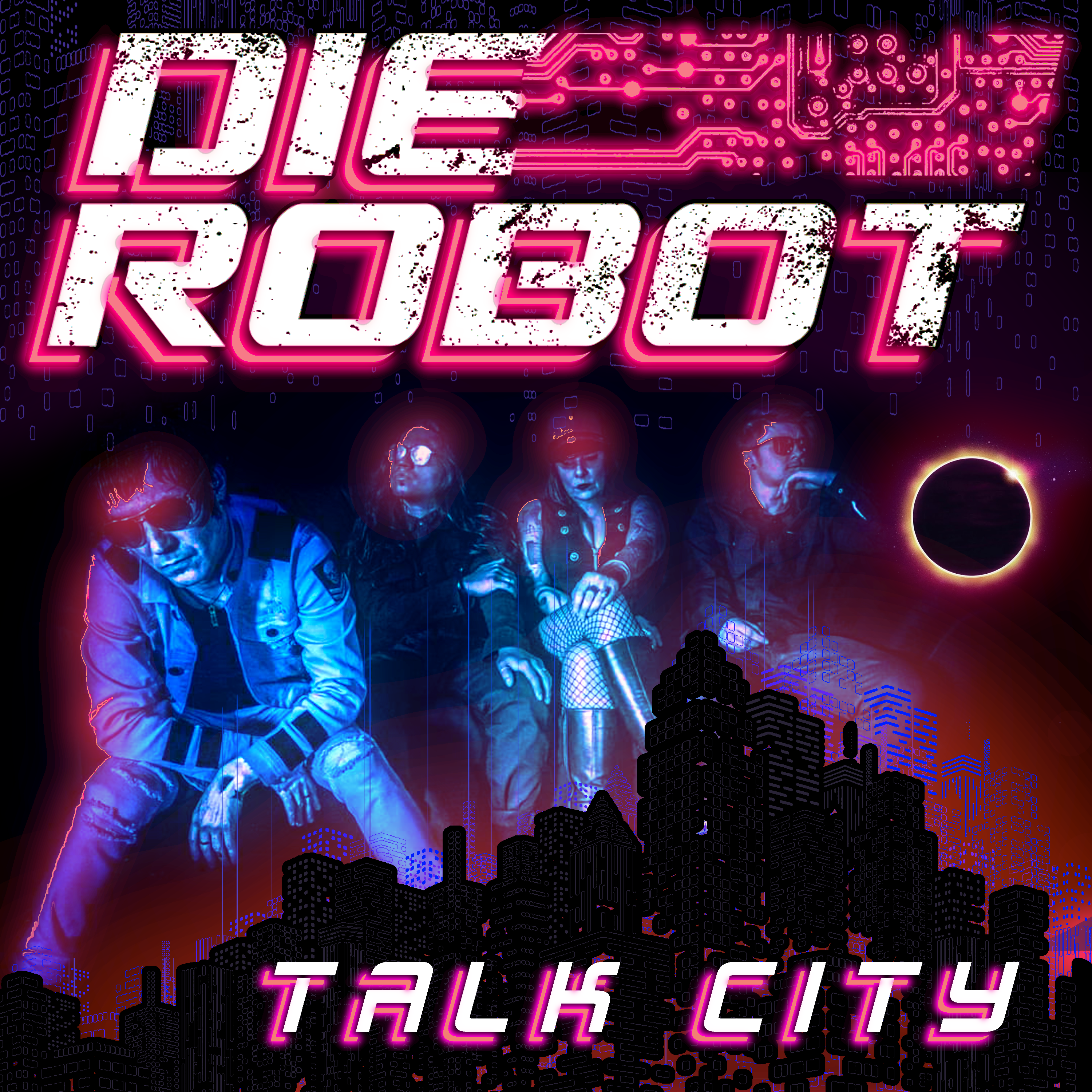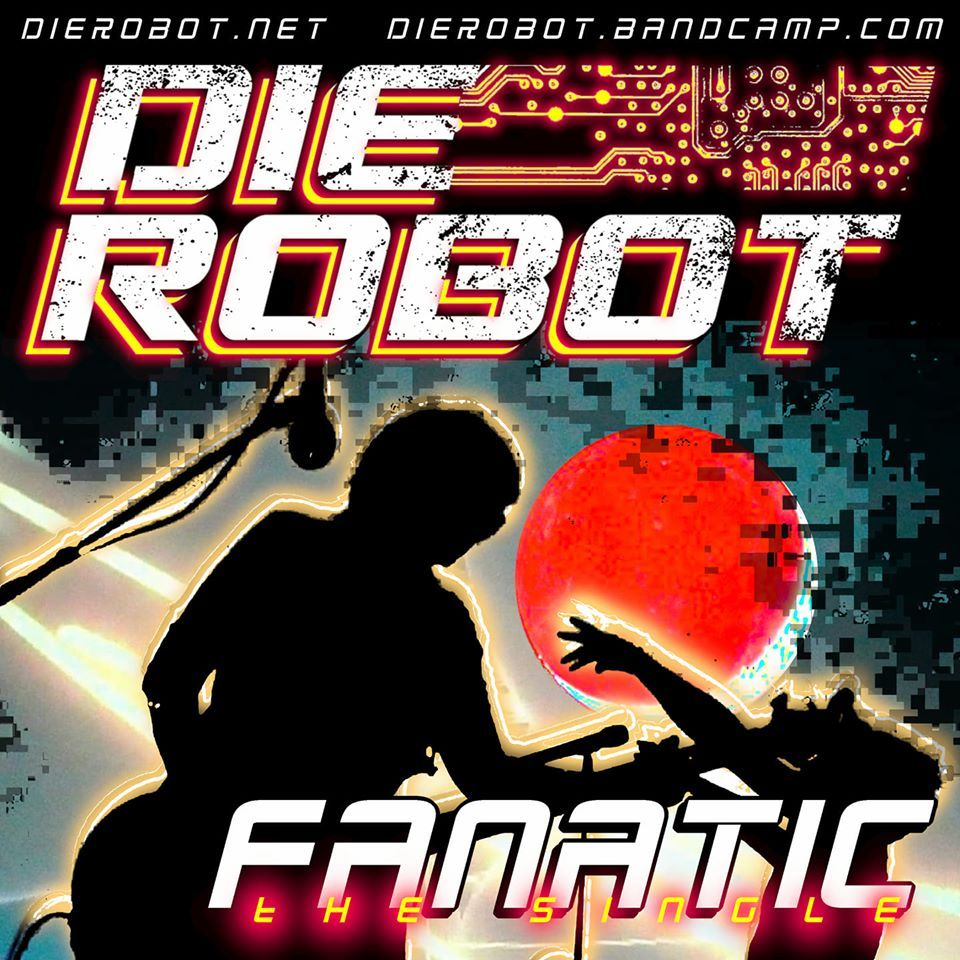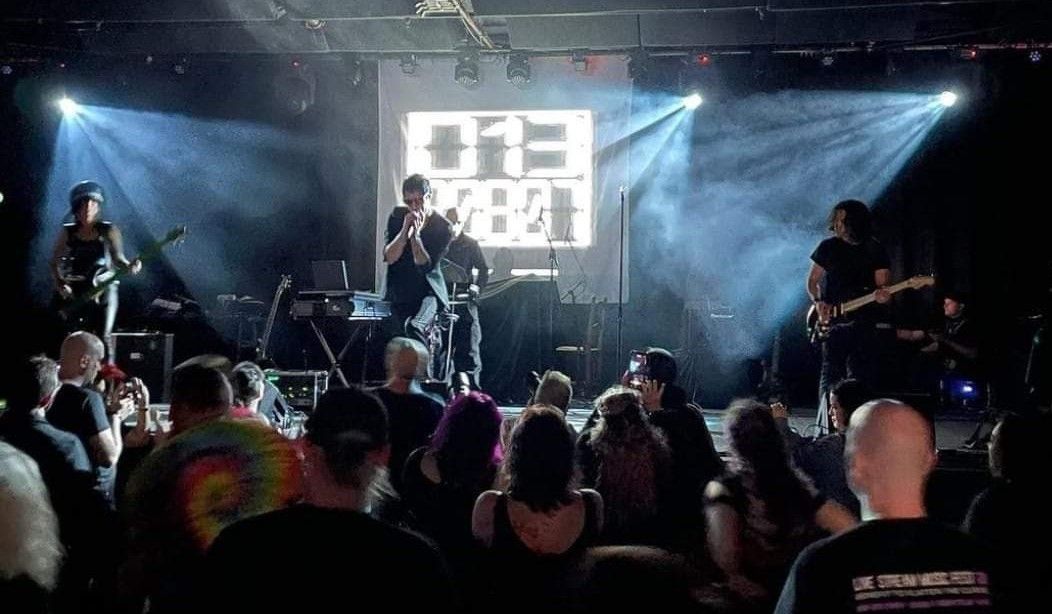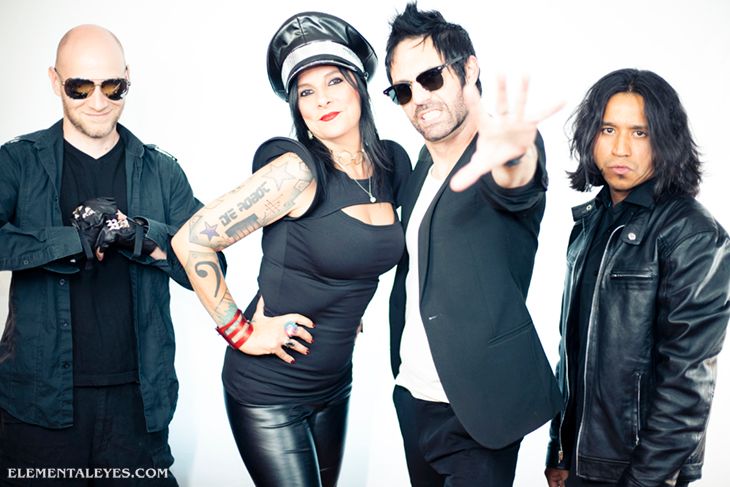 Humans playing music:  
Vince Christian (Vocals / Programming)
Barbie Saint (Bass / Keys / Programming / Electronics / Vocals)
Rosmic Z (Guitars)
Sean Learn (Percussion, E Drums, Keys) 
Zane Hamilton (Studio Sax)
John Case (DR Producer / Studio Keys / Modular Synth)
Former Members: 
Die Robot has invited other musicians to perform with them live and in the studio and they will continue to have them.  For Die Robot Debut's era self title EP, Zane Hamilton played live and studio sax and keys, Charles Beasley played the shredding guitars and Josh Ketterer later joined them live playing the industrial guitars. During 2017 and Technopunk EP era, they had a live synth/keys player, Uriel and Brandon A Sills (Amerakin Overdose) played lead guitar samples for some of the tracks. 
For the Portland Industrial Goth Festival PIGFest 2 and a few other shows during 2017/18 Jared Scott (of Particle Son) played guitars on the new version of The Underground and he joined them on stage again for the Stabbing Westward show. Angela Johnson played live electronic percussion from 2014 to 2018.
For the last few shows of 2018, Yvette Lera played live keys and sampler percussion. During 2018 and the first few shows of 2019, Heath Nunes played guitars live. Heath also recorded guitars on their cover of Fortunate Son for the Riveting Music Protest Songs Compilation Album.
In 2019 Zane Hamilton joined them back in the live lineup playing keys and electronic drums, and finished their 2021 tour to became a studio collaborator and invited live musician occasionally, and Rosmic Z is Die Robot guitar player live and in the studio to present time. 
Barbie Saint and Vince Christian are currently in the studio with Rosmic, Zane and John recording their new album: NEW ALBUM "FANATICS" coming out soon! 
Albums & Singles
TECHNOPUNK THE FULL ALBUM IS NOW AVAILABLE DIGITALLY WORLDWIDE (ITUNES - AMAZON - SPOTIFY) Under Enfected Records & RMLfx and sponsored by CDBaby Music & XRAY.FM 
Die Robot Technopunk Remix'd is out now in all major music platforms via Enfected Records and sponsored by RMLfx, CD Baby and XRAY.FM.
Die Robot cover of Creedence Clearwater Revival's Fortunate Son AND Pink Floyd's Comfortably Numb. Both songs Available Exclusively in the Riveting Music Protest Songs Compilation Albums. 
The second single from the new album "Virtual Life" is included in the Portland Industrial Goth Fest Compilation Album. Virtual Life is also included in the DIG! (Grammy Edition) by CD Baby. 
The first single from their debut EP "The Underground" was included in The Lovecraft Bar Compilation Record Vol. II. 
Aaron Litt Creative & Die Robot Released the first DVD of the Concert Series:
Die Robot Endorsers / Sponsors:
All Music & Lyrics by : Barbie Saint and Vince Christian.
Produced by John Case @ RMLfx.
Enfected Records. All rights reserved. 
Special thanks: 
DR producer Johnathan Case (Retro Mechanical Labs: FX Pedals and Recording Studio) DR Tour Manager, Terence Hui (Oqion Music Management) Jason Dickey (Die Robot various posters) Aaron Litt (DR Videographer) Dean Hunter (Church of Hive Hunter Presents) Brook (Coffin Club) Derek Moore (Shadowplay) Mike Trasher (Mike Trasher Presents) Vampire Freaks (Dark Side of the Con) Joe Gallagher (Bossanova Ballroom) Dave Cantrell (Xray FM Songs from Under the Floorboard) Brandy Powers (Xray FM Gothique Boutique) Scott Hammond (FreeForm Radio Hot tub) Ghost House (Eugene) Mechanismus (Seattle) Chris Bigalke (Debut album art) 8bit Pixel Domina (Technopunk album art) Jon Cruz (Technopunk band photos) Aurora Owen (show flyers and posters)